Westside Animal Hospital is a private animal hospital in New York City's midtown that specializes in comprehensive and individualized care for canines and felines. For more than 10 years, we have been making pets and their owners happy with our wide range of veterinary services.
All of Westside Animal Hospital's staff are long-time pet owners, so they know how important your pet is to you and your family. We acknowledge that every relationship between a pet and its owner is unique and we strive to nurture that partnership for as long as possible.
We pride ourselves in providing long-lasting and effective medical care for your pet and also offer general wellness exams and veterinary services to keep your pet healthy and happy. At Westside, we know that preventative care is an important part of keeping your pet in good health for many years. That is why we offer general wellness exams for your pet, in addition to a standard and balanced vaccination-protocol, as well as preventative measures against common parasites such as heartworm, ticks and fleas. We also stress yearly dental care, puppy/kitten and senior wellness exams, as well as ID microchipping.
However, that is not the end of Westside's veterinary services. During every exam you will be equipped with information and recommendations on how to continually care for your pet depending on its particular type and breed. Also, we offer an in-house laboratory and pharmacy which complements the rest of our services to help diagnose and treat your pet. In addition, our resident veterinarian Dr. Romeo M. Perez, is adept at small animal surgery. All of the hospital's staff are committed to the well-being and longevity of your pet.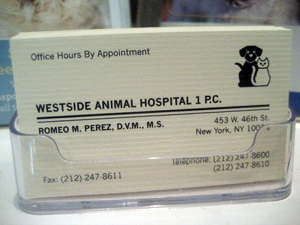 The Westside Animal Hospital is dedicated to providing quality and compassionate care for your animal's medical and surgical needs. We are committed in offering a place that is safe, calm and inviting for your loved one and treatments that are both long-lasting and cost-effective.
We are open 6 days a week, Monday through Saturday. Call us at (212) 247-8600 to make an appointment today or to talk with one of our staff. We are sure that you and your loved one will find the Westside Animal Hospital a place where both of you will feel right at home.