Westside Animal Hospital is available for Domestic & International Health Certificate exams. Exams must be scheduled no less than 10 days prior to travel with one of our veterinarians.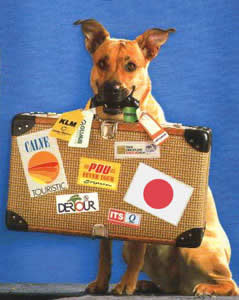 FOR DOMESTIC TRAVELERS (within the USA): Please make an appointment with us within 10 days of your travel date and after a thorough exam our veterinarian will issue you a domestic health certificate.  Please make sure your pet's vaccinations are up-to-date.  If not, we can gladly vaccinate your pet before travel and issue you that paperwork as well.
FOR INTERNATIONAL TRAVELERS (outside the USA): Please read ALL OF THE BELOW INFORMATION and VERIFY that you have all the required paperwork needed for traveling into the destination country before making your appointment with us so that you can bring them in. Our hospital is only authorized to issue Form 7001 from the United States Department of Agriculture, Animal and Plant Health Inspection Service (APHIS).  Please note, that while our hospital is authorized to issue this form, the second half of the form must be completed by an accredited USDA veterinarian (usually present either at the airline of departure or another outside institution).  Any other forms required to be filled out prior to travel must be brought by the client during the scheduled appointment. Westside Animal Hospital is not responsible for incomplete paperwork that is not handed in prior to travel and we are not liable for any inconveniences that may occur due to this.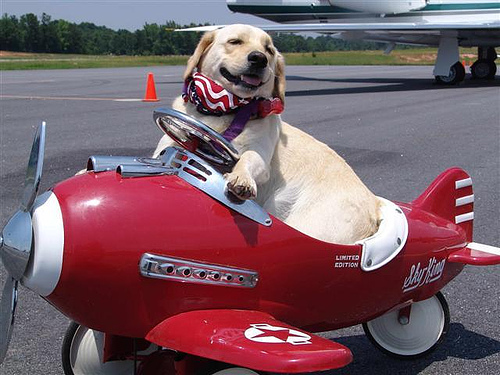 Pet Travel Certificates for Traveling Pets
To ensure your pet's health and safety, pet travel requires planning and preparation. We have experience assisting our clients with both domestic and international pet travel, and our certified USDA accredited veterinarian is qualified to issue pet health certificates.
Domestic Pet Travel
Air travel with your pet can be enjoyable for everyone involved. There are many factors to consider while preparing to travel to help ensure the health, safety, and eligibility of your pet to travel by plane. Minimally, a current health certificate and history of vaccinations are recommended. Specific air travel requirements vary by airline and can change at any time. We urge you to contact your airline carrier for complete regulations prior to booking. Key considerations include:
1. Health documents — Pet health certificate, vaccinations such as rabies, or other health requirements
2. Size of pet — Determines if your pet can accompany you in the cabin or must travel in the cargo area
3. Type of carrier — Restrictions on size, materials, labeling and bedding
4. Temperature — Airlines may restrict transport of pets placed in their cargo hold based on the anticipated arrival and departure temperature
5. Fees — Additional handling fees may be required for your pet
6. Security screening/check in — Details regarding extra time or requirements for checking in your pet
International Pet Travel
Traveling internationally with your pet requires increased planning and preparation compared to domestic travel. We are certified by the USDA to issue pet health certificates and can help to ensure your pet has the necessary vaccinations and blood testing as required. We strongly encourage you to research the health and transportation requirements, such as:
1. Airline Carrier—Requirements for health documentation, pet crate specifications, and eligibility
2. USDA animal exporting requirements
3. The consulate of your destination county
4. USDA animal importing requirements
Before scheduling an appointment for a Domestic or International Health Certificate at Westside Animal Hospital, you must follow the steps below to ensure smooth and safe travel for you and your pet.
1. Call the airline. Airlines may have specific paperwork or requirements needed for travel.
2. Call the USDA veterinarian. The USDA veterinarian for your state or area is a great source for information regarding importation of pets into another country. They will be able to help you with your questions and the steps you need to take to bring your pet into another country. You may visit their website at http://www.aphis.usda.gov/regulations/vs/iregs/animals/
3. Call the Consulate, Government Official or Embassy of the destination country. There are some countries that require special permits or paperwork to import your pet into their country. You will want to follow all the country's guidelines to ensure your pet passes through customs – failure to do so can result in your pet being quarantined or turned away from entry.
4. Check your microchip registration. Make sure your pet's microchip registration is up-to-date and is international travel friendly. Microchips placed several years ago may not be compatible with the international ISO standards. Call your microchip's registrar to ensure all contact information is current and that your microchip number is international travel compatible.
5. Schedule all necessary appointments. Countries may require your paperwork be inspected and signed by the USDA veterinarian of your state or area. They may also require signatures of consulates or other government officials. Be sure to have all appointments scheduled prior to travel. Some USDA offices allow you to FedEx paperwork overnight to be inspected and signed, make sure you leave adequate time for return of this paperwork to you prior to travel.
6. Bring all your pet's travel paperwork and documents to your Westside Animal Hospital appointment. It is required that the client bring all appropriate paperwork and documents to their International Health Certificate examination appointment. Westside Animal Hospital will not be responsible for any missing or inaccurate paperwork provided by the client.
Please note International Health Certificate exam appointments can take up to 40 – 60+ minutes, this is to ensure your paperwork is thoroughly completed by our doctors and technicians.
Microchip information:
Pet Microchip Lookup website: http://www.petmicrochiplookup.org/
Travel Information changes frequently, so it always best to call the country of destination to find out up-to-date importation rules and regulations.
PLEASE NOTE: Westside Animal Hospital CANNOT be held responsible for any inaccurate information or paperwork provided by the client. Please bring in all the necessary paperwork that needs to be filled out prior to travel according to the airline of travel and regulations of the destination country.